Blaze
[[

|250px]]


Date Of Birth

1 April 1971 (Age 29), Staten Island, New York

First Appearance

Weight

245 Ibs

Height

6"5

Style

Wrestling

Race/Ethnicity

Afrecaian American

Weakness/Strong

Martial Arts/Submissions

Vendetta/Fight For NY Crew

Special Move

The Prequel

Portrayer/Voice by

Blaze a.k.a. Method Man is a fighter who plays a main role both in Def Jam: Vendetta and Def Jam: Fight for NY.
Background
Edit
Blaze is a street fighter for D-Mob's crew. He first appeared in Def Jam Vendetta along with Doc as they became tag team partners. Blaze was D-Mob's right hand man before Crack crippled him after a cage mach. Before He was a fighter, He was in prison on a possession charge along with his best friend Doc. After D-Mob heard the both of them took on 11 imates in prison he sent some of his lieutenants,  Pockets, House and Snowman to bail them out of jail so he could recruit them in the crew. Since then Blaze have been fighting for D-Mob.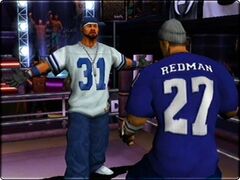 Character Description 
Edit
Blaze is tall, len with a dark 5 o'clock beard. He wears a long white and blue football jersey with the number 31 on the back of it with long baggy jeans and timberland boots. After the player defeats all fighter at the Babylon club, Blaze's appearances change to baggy shorts and white sneakers. And after Magic beats him with a baseball bat, He has blood on his jersey.