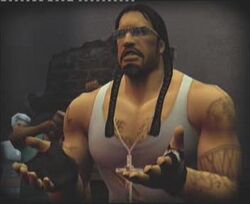 Skull is a hispanic male who is one of the circuit fighters in the game.He is first seen at the limit in which he is the one of the fighters in line to fight.Again he is seen (optional) when the player chooses carmen electra to be their girlfriend and then he is seen with the players ex girlfriend and agrily tells him "Why you got to dog my girl like that"Then he punches a player and starts a fight.
Ad blocker interference detected!
Wikia is a free-to-use site that makes money from advertising. We have a modified experience for viewers using ad blockers

Wikia is not accessible if you've made further modifications. Remove the custom ad blocker rule(s) and the page will load as expected.